Teton Conservation District, Wyoming Lidar
---
Overview: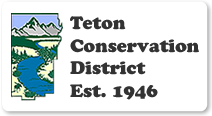 This dataset was collected during the summer of 2008 by Sanborn on behalf of the
Teton Conservation District
. The project mapped 141 square miles of area within the Snake River Range and the Teton National Forest. The area covered is west of the Snake River to the Bridger-Teton National Forest boundary, and from Teton Village to Red Top Meadows. Extensive information was collected, including vegetation data for Wildland Urban Interface projects and floodplain mapping.
Platform
: Airborne LiDAR
|
Survey Date
: 08/13/2008 - 08/18/2008
|
Survey Area
: 365.00 km
2
|
Point Density
: 2.62 pts/m
2
---
Full Metadata
|
Dataset Acknowledgement
|
Funder
:
TCD
|
Collector
:
Sanborn
By accessing data via OpenTopography you agree to acknowledge OpenTopography and the dataset source as specified on
OpenTopography's data acknowledgement page
in publications, presentations, and other materials produced using these data.